Saturday, March 09, 2013
Today is National Meatball Day - March 9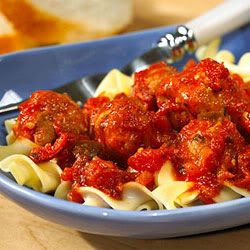 Have some meatballs for lunch. Do you like sweet and sour, soy, raspberry chipotle, meatballs and spaghetti, Italian, Greek, Swedish, or turkey?
Those are some choices (

Googled for pictures

), my favorites are Italian meatballs and spaghetti, AND Swedish with gravy and mashed potatoes with the same gravy.
After lunch you can celebrate National Barbie Doll Day. Dress for the day also,

see here

.
One last bit, Barbie is 54 years old this year.
Read the National Day Calendar for today

here

.
Meatballs and spaghetti picture
courtesy of Photo Bucket

....
(sign said take it)

...........
Comments:
I think I know what I want to have for dinner tonight—even though it's Sunday!
Have a great day, Jim. Enjoy teaching your Sunday school class. ☺
Links to this post:
<< Home